See 49ers Season tickets for 2017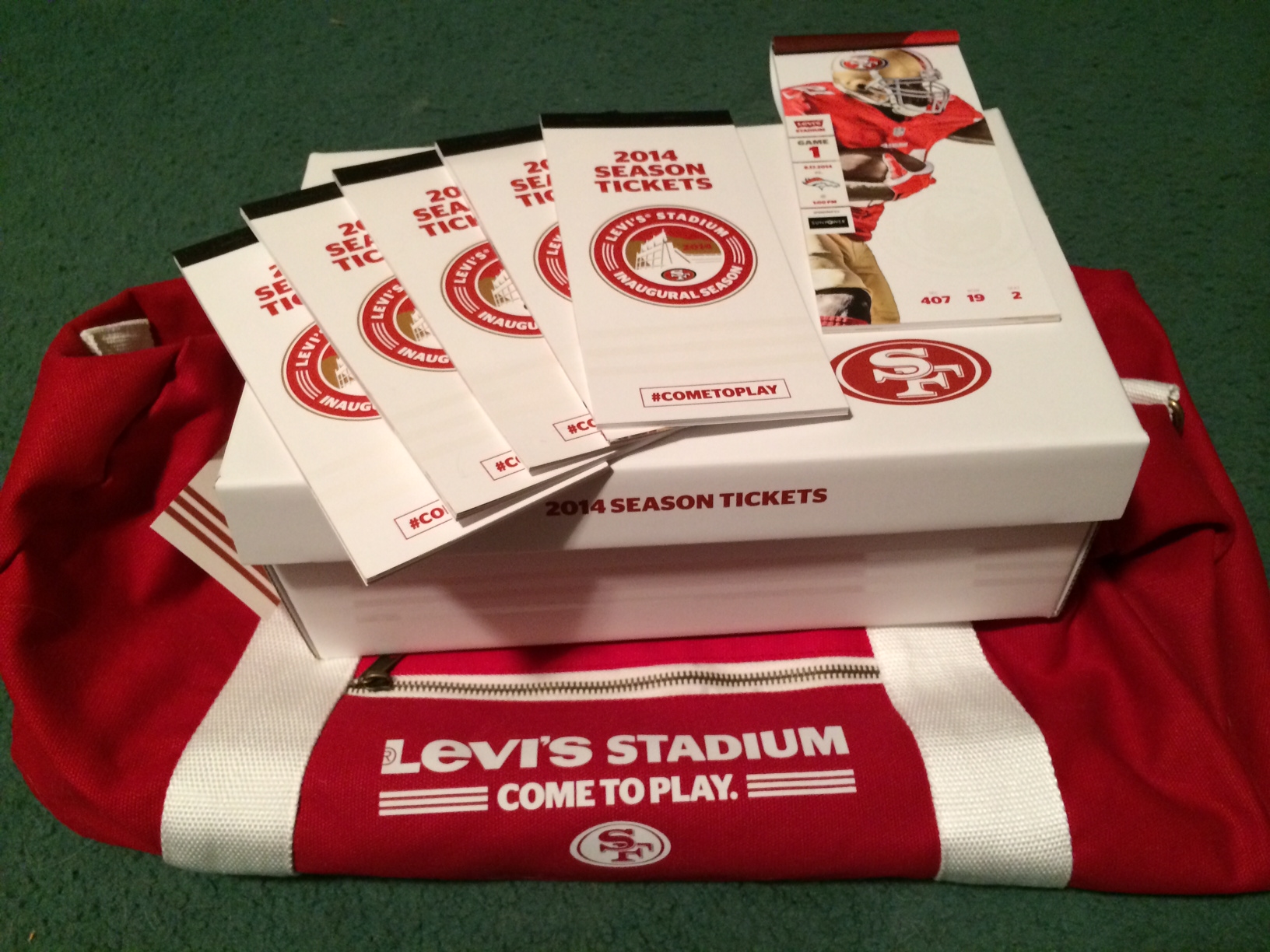 Some

rights for sale
with option to buy season
at Face Value this year and in the future


Season Parking Passes




Qty.


Location

Description

Price



2

Blue 1

Open Flame Tailgating OK
$600 ea



2

Blue Lot RV
Parking


Open Flame Tailgating OK
$1850 ea



4

Preferred Lot
Green 1

Open Flame Tailgating OK
$800 ea



4

Green Lot 1
RV/Bus

No Tailgating

$1250 ea



[Back to Top]
Click on chart to see large views
Click on chart to see
large
views
We try to offer our tickets at slightly less than market value because we don't have to pay selling fees if you buy directly from our website.

So,we are making this "Best Offer" option available for those who have a compelling reason to offer less than the stated price - but only AFTER you look at the market like StubHub or TicketMaster.

If you want to take advantage of this, please email us with your best offer and we will definitely consider earnest offers. However, please avoid making "low ball" offers hoping we will take it. Please include your contact info in your email.

[Back to Top]
Refund Policy:
Canceled Event: In the unlikely event that the game is canceled, we will gladly give you a 100% refund of the ticket price - upon receipt of the unused tickets. Tickets must be returned within 14 days of canceled event.
Your plans change: Due to the nature of ticket sales, we will only accept returns of unused tickets under certain conditions:
If we no longer have any of those games left in our inventory;

Tickets must be returned 30 days prior to the event

Tickets are subject to a 25% relisting fee.
If you have any questions or concerns about our policy, please contact us before buying your tickets.


Please feel free to call or email us with any questions.


Email us


or call:


(415) 891-1949




We accept the following



[Back to Top]